2010.03.25 Thursday
3/27 electrodelic 出演者プロフィール - NOP [troplott music]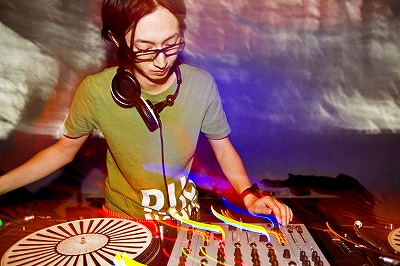 1981年熊本生まれ。現在は東京を拠点に活動中のDJ/Producer/Organizer。
3歳よりエレクトーンを学び、ギタリストやアレンジャーとして様々なバンドやアーティストのレコーディングに参加。その豊富な音楽知識・プログラミング技術を生かし、2004年よりDJと平行して楽曲制作を開始。
深く滑らかなグルーヴのループ群の上に、トロピカルな旋律を木魂させる特異なトラックは、BEEF[Australia]、Galaktika[Spain]、FRAME[Japan]をはじめ多数のレーベルからリリースを重ね、2008年には1stアルバム『Mouse House』を発表し、センセーショナルにシーンの話題をさらった。現在は目下、自身のレーベル『troplott music』立ち上げに向け準備に力を入れている。
またDJセンスの評価も高く、2008年世界的にも著名なバルセロナのビッグフェスSonarプレパーティーへの出演を果たす。国内では自らがオーガナイズするFUSION at ROCKWEST[渋谷]、DIAL at UNIT[代官山]など都内を中心に、大阪/福岡/新潟/富山/群馬/静岡/高松をはじめ各所にも赴き、ディープでスムースそしてトロピカルなサウンドを響かせている。
http://www.myspace.com/nopmagic
NOP a.k.a. Hiromichi Honda is Japanese producer, has released EP or Album from SOG Records(Switzerland), Frame Recordings(Japan), Beef Records(Australia), Galaktika Records(Spain). And he is DJing almost every week in Tokyo and around cities.
He from Kumamoto west in Japan was starting electronic organ since age of 3, and took instructor qualification of it when he was in the Junior high school. He had a fever for band activities as a guitarist while in teenager. After he moved to Tokyo, using his knowledge and skills of musical instrument and programming, he joined recording session as an arranger.
So far he is residency at party called "Fusion" held at Shibuya Rockwest and "Dial" held at Daikanyama Unit. And not only the major clubs in Tokyo such as WOMB, ageHa, Yellow, Air, he also has been played at foreign country. A sound of him is important to express dynamicity scene within three musically elements; rhythm, melody and harmony. NOP spread out his world Deeply Smoothly and Tropical music on DJing. He is now moving on to new steps and field without any borders.
http://www.myspace.com/nopmagic